GILBERT MBEWE
In the Roman Catholic Basilica of Our Lady in Zwolle are two very large, brass, six armed candelabra to which there is affixed a lectern. Each candelabrum has a round, arched foot, resting on three seated lion figures. On the upper part, the six arms of the candelabrum are arranged symmetrically, and are interconnected by obliquely inclined frame-mounted braces, including gothic tracing. On the edges of the candle drip-pans a sort of closed three pattern appears. A brass angel pointing at the lectern stands at the centre of each of the candelabra. Halfway up the shaft of each candelabrum a lectern has been placed; the lectern is decorated with cut out circles.
Manufacturer
These incredible stunning six armed candelabrum with a lectern were made by Gerard Bertel Brom in the year 1877 and were made specifically for Our Lady's Basilica in Zwolle. Gerard Bertel Brom (1831-1882) worked as a coppersmith at Van Kempen in Utrecht. Among other things, he made church vessels in the Neo-Gothic style. Gerard Brom was involved in the construction and furnishing of a large number of churches.
The candelabra were designed by Friedrich Wilhelm Mengelberg (1837-1919), whom the church had hired to design all the pieces for the interior of the Basilica. It was in F. W. Mengelberg Workshop in Utrecht that the objects were manufactured. Mengelberg was active as a maker of religious visual art. He formed the Mengelberg workshop, in which more and more artists came to work and mainly produced interiors for churches such as pulpits, high altars, confessionals, communion benches and stations of the Cross. It is in this very workshop in Utrecht that Brom made the lectern in 1877.
Payment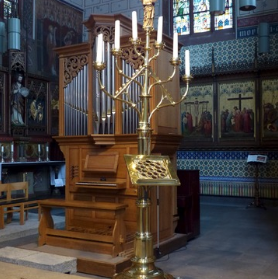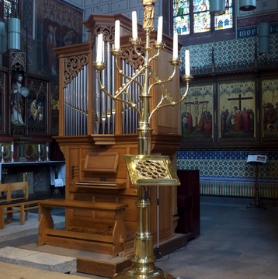 The two six-armed candelabra with a lectern are made of brass and are approximately 320 cm tall and 74 cm wide. They were paid for by two sisters as part of their contribution to the church. The names of the sisters are given in inscriptions on each candelabrum. The one on the left side of the Basilica was paid by Joanna Elisabeth Kleinefeldt; the one on the right was paid by her sister EMH Kleinefeldft Dewael. Given their very large size and, one may estimate that they would have been very expensive, but it is not known precisely how much was paid for each.
The Use of the candelabra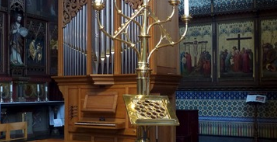 | | |
| --- | --- |
| | |
| The candelabrum on the northern side (i.e. the left from the congregation's point of view, but on the right from the view of the altar) is where the deacons or priest used to read the gospel during the mass, and performed other duties which belonged to the deacon's office. The sermon may have also been sometimes delivered from here by the priest or by the bishop. | The candelabrum on the southern side (i.e. the right from the congregation point of view, but the left from the point of view of the altar) was used when when the subdeacon or priest read the epistle during the mass facing the nave (the long central part of the church where most of the seats are) and other lessons were read. |